intuis connect - Discover the Benefits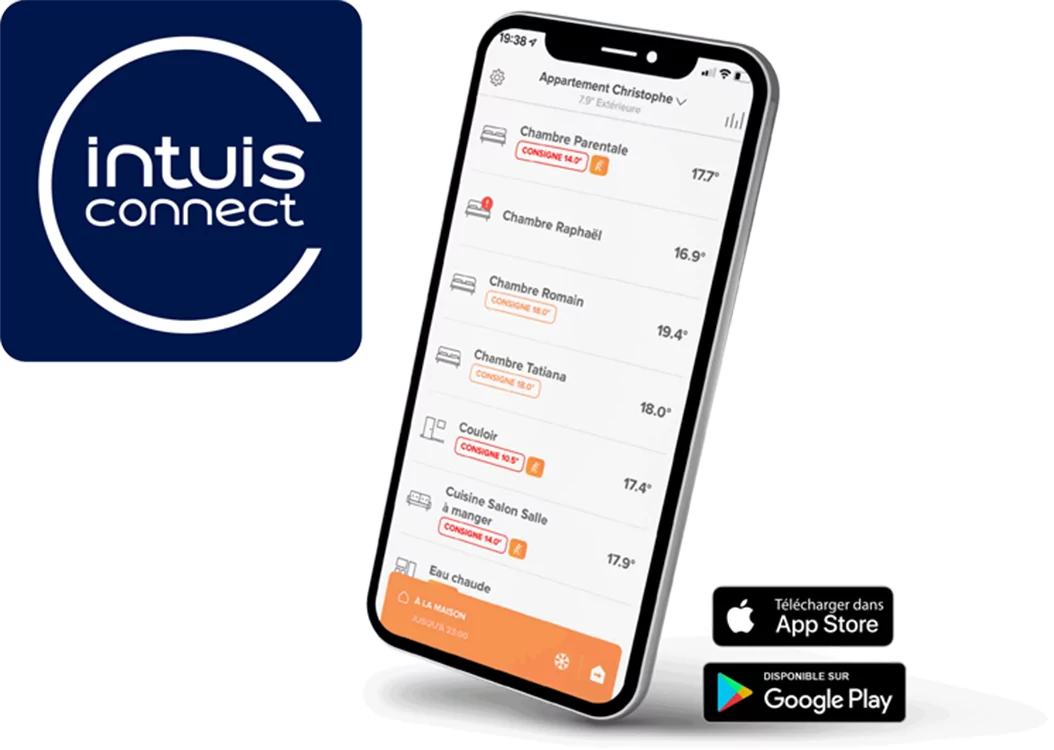 Modules and gateway
The intuis connect with Netatmo application allows you to remotely control your radiators for personalized comfort and precise energy consumption management.
With its extensive experience, the intuis connect app is highly praised by users for electric heating management. It enables you to fine-tune your heating system by adjusting temperatures to your daily routine and monitoring your daily, weekly, and monthly energy consumption.
The majority of our radiators are compatible:
By adding an intuis connect gateway to your household.
By inserting one or more intuis connect modules into our radiators.
Incorporating an Aqua Manager or a Manageur Compteur into the installation will facilitate the control of your electric water heater or manage energy consumption in line with electricity tariffs.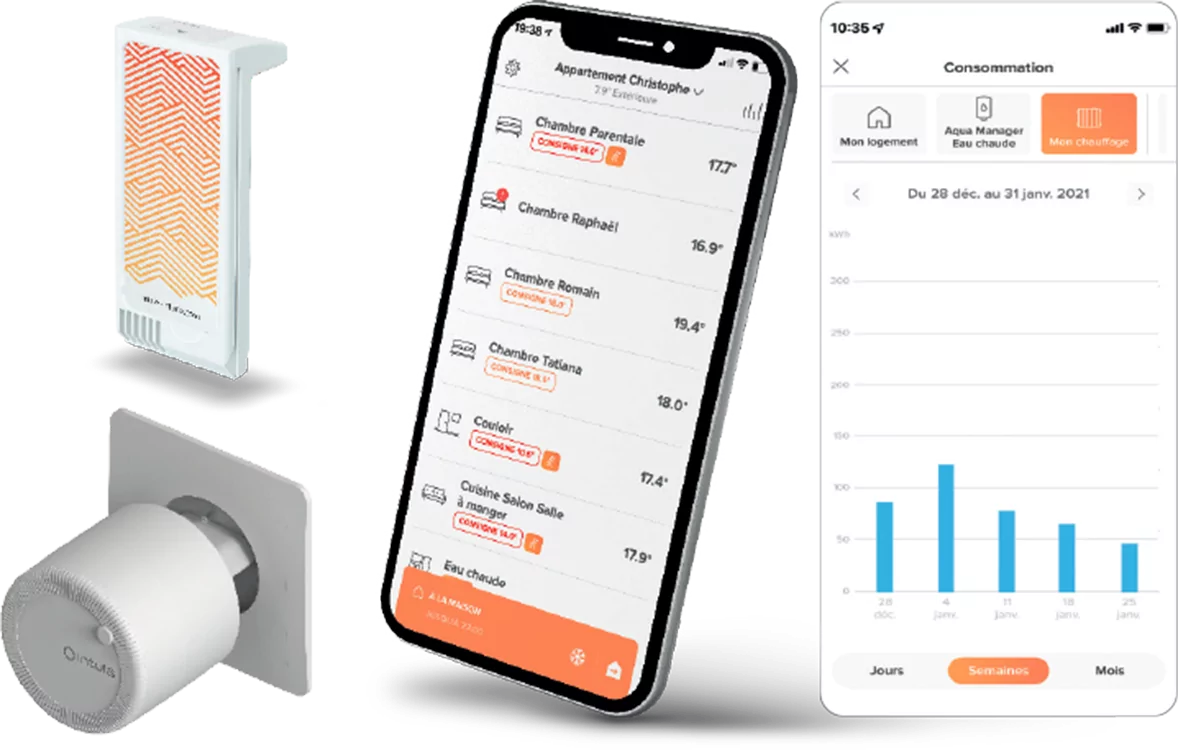 Managing Your Heating with intuis connect
Add connection modules to your smart radiators or an intuis connect gateway per household to control your heating and monitor energy consumption.

Heating Schedule
Complete freedom to choose temperatures to adapt to various lifestyles.

Consumption Control
Understanding Everything About Consumption to Manage It.

Managing an Unexpected Absence
A changing schedule, an unexpected absence, intuis connect automatically lowers the heating to maximize savings

Absence Management
Manual Management of Short Absences (Weekends) and Long Absences (Holidays).

Room-by-Room Temperature Setting
An all-encompassing view of the installation and the ability to adjust temperatures for each room individually. Radiators within the same room synchronize.

Notifications
In the event of unexpected events (an open window, a detected presence...), the application alerts you

Open Window Detection
In the event of a window being detected as open, the heating system automatically turns off.

Online Assistance for Ongoing Support
Online assistance with a FAQ and video tutorials is available within the application

Voice Control of Heating
And the ability to create scenarios with other connected devices
The ability to create scenarios with other connected devices allows you to personalize and automate the operation of your heating based on various conditions and events.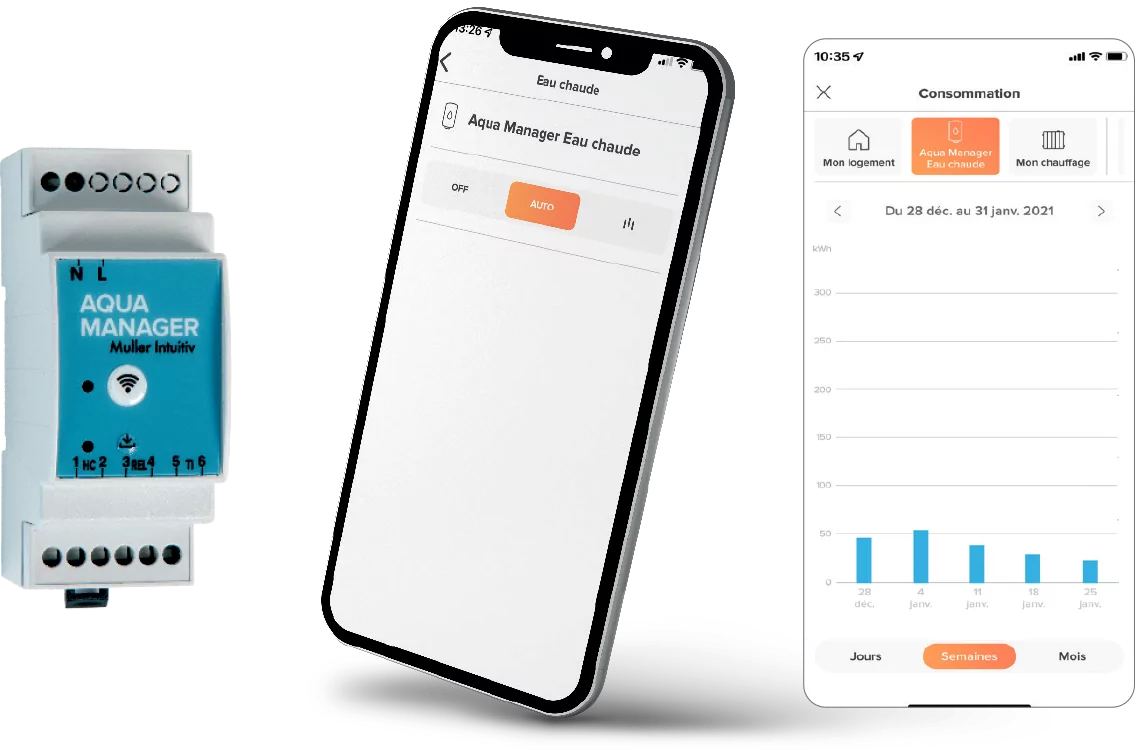 Managing Your Electric Water Heater
Add the Aqua Manager to control your electric water heater and monitor its consumption

Remote Control
of most electric and thermodynamic water heaters (ON/OFF and forced operation).

Consumption Control
Review of the electrical consumption of the controlled water heater(s).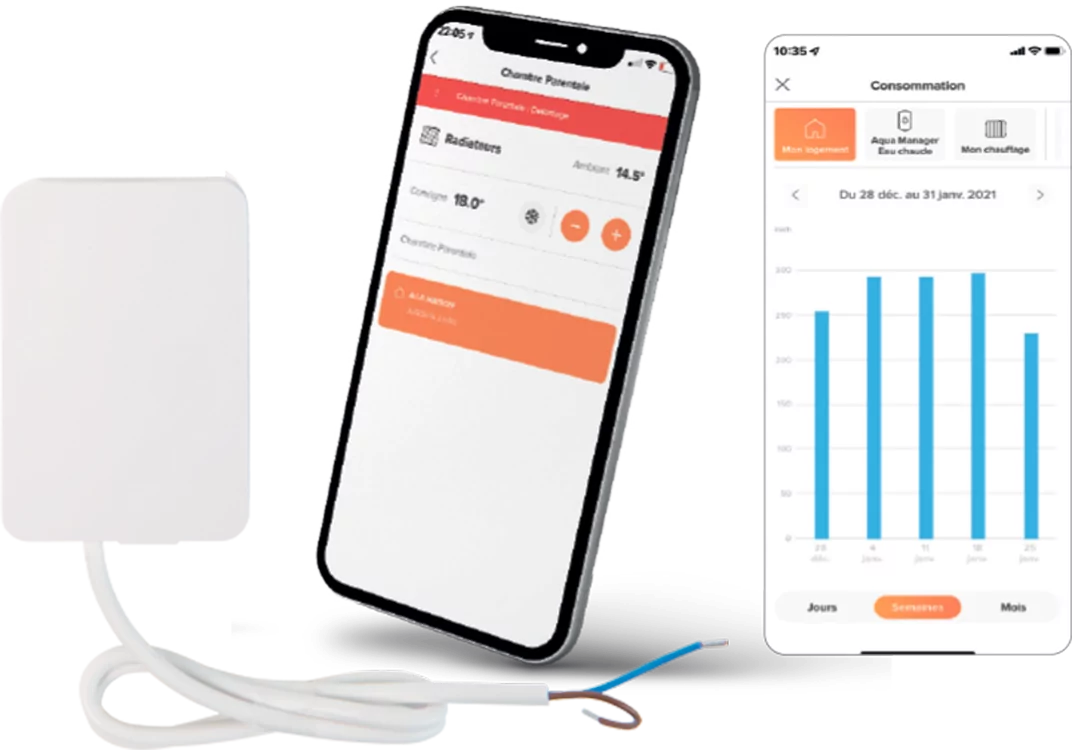 Advanced Electrical Management
Add a Manager Compteur to monitor the consumption of your entire household, enable intelligent load shedding, or automatically manage the operation of radiators based on electricity tariffs

Smart Load Shedding
Smart load shedding to turn off radiators and not exceed the subscribed power in the service contract: allows individuals to potentially select a lower metered power.

Tariff Management
Management of radiator operation based on tariff periods (EJP - Tempo)
Consumption Control
Tracking the overall electrical consumption of the entire household (all uses).