Table of contents
Game Introduction
How to Participate ?
Rules and Regulations
Join our intuis Signature contest !
Table of contents
Game Introduction
How to Participate ?
Rules and Regulations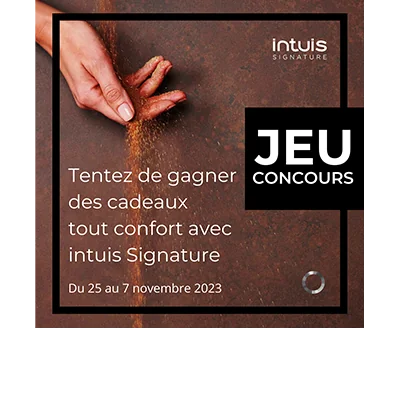 intuis is launching its Instagram contest from Wednesday, October 25th to November 7th, 2023
Would you like to experience intuis Signature at your home ?
Join our contest and try to win the ultimate comfort must-have :
"A stunning pair of Philippe Zorzetto black leather espadrilles, padded with a cushion inside. Made in France in the Basque Country, it's a rare and authentic artisanal creation of exceptional quality.

A terracotta ball from Anduze with a white ash patina, scented with honey, for a chic decor with enveloping and warm notes.

A intuis Signature embroidered bath towel for a luxurious post-shower experience."
To participate:
1️- Follow @intuis on Instagram.
2️- Like the contest announcement post.
3️- Answer the question: "Which is your favorite material (ceramic, glass, or lava stone) in the new intuis Signature line?" in the comments.
The contest ends in 2 weeks. The winner will be randomly selected from the comments on the post and stories, then announced on our page.
Good luck to everyone!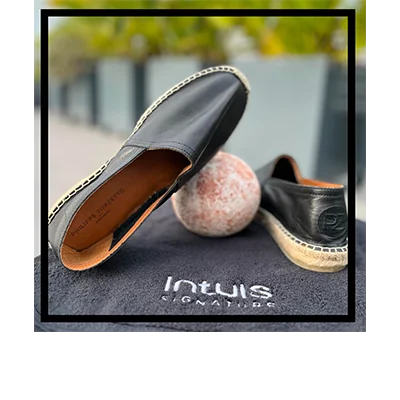 **RULES OF INTUIS SIGNATURE CONTEST**
**ARTICLE 1: ORGANIZATION**
MULLER SERVICES, holder of the intuis Signature brand, a simplified joint-stock company with a capital of 800,000 euros, registered with the Trade and Companies Register under number 394 885 990 RCS Nanterre, with its registered office located at 28 rue de Verdun – 92150 SURESNES, hereinafter referred to as the "Organizer," is organizing a free contest without obligation to purchase entitled "Contest No. 1" on the Instagram platform.
**ARTICLE 2: ELIGIBILITY**
This contest is open to any legal adult resident of metropolitan France, excluding members of the organizing company. Only one entry per person is allowed.
**ARTICLE 3: PARTICIPATION PROCEDURE**
To participate, participants must:
- Like and comment on the contest post published on October 25.

The contest runs from October 25 at the time of the post until November 8 at 8:00 PM.
**ARTICLE 4: WINNER SELECTION**
The winner will be randomly drawn within 72 hours following the end of the contest. They will be contacted via private message on Instagram and will need to provide their desired shoe size and complete contact information.
**ARTICLE 5: PRIZES**
The contest is endowed with the following prizes:
- A pair of Philippe Zorzetto black leather espadrilles
- A terracotta ball from Anduze with white ash patina scented with honey
- An intuis Signature embroidered towel
The value of the prize is €180.
The prizes cannot be exchanged for cash or any other form of compensation.
**ARTICLE 6: RESPONSIBILITY**
The Organizer shall not be held responsible in case of technical malfunction, bug, or error on Instagram.
**ARTICLE 7: ACCEPTANCE OF THE RULES**
Participation in this contest implies full and unconditional acceptance of these rules.
**ARTICLE 8: PRIZE DELIVERY**
The prizes will be sent by postal mail to the winner's provided address after their selection. The Organizer shall not be held responsible for the loss or theft of the prizes during their postal delivery, or for the non-receipt of the prizes for any other reason beyond its control. No message will be sent to the non-winners.
**ARTICLE 9: APPLICABLE LAW AND JURISDICTION**
The contest and these rules are subject to French law. Any dispute will be submitted to the competent courts of the department of Hauts-de-Seine.