The different technologies of electric radiators
Electric radiators can be divided into three main categories: convection heaters, radiant heaters, and soft heat radiators.
Soft Heat Radiators
While for convection heaters and radiant panels, the heat is directly transmitted to the environment, for a radiator, the outer shell of the appliance, especially its front, is used to emit a significant portion of the heat in the form of a gentle and pleasant radiation.
There are two major categories of soft heat radiators.
Radiators with fluid circulation:
These are heating bodies usually made of aluminum, filled with a heat transfer fluid. The heating element is an immersion heater in the fluid that circulates by heating it (natural thermosiphon principle).
The heat is transmitted to the room thanks to the heating of the aluminum heating body. It is a gentle and gradual heat reminiscent of that of central heating radiators.
intuis offers two ranges of radiators with recycled aluminum fluid circulation: AXINO, a streamlined range with an excellent price-performance ratio, and SLOOP, a design and connected range.
Radiators with dry technology (dry radiators):
Here, there is no fluid; dry radiators combine different heating technologies: radiation, convection, and, in some cases, the use of refractory materials such as cast iron, as well as noble and decorative materials such as thick glass, ceramic, or lava.
Dry Radiators WITH INERTIA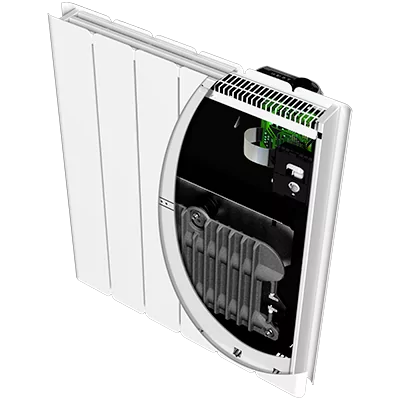 Cast iron activates an exclusive intuis process.
The resistance (the heating element) is cast by our own foundry into the heart of the cast iron block, giving our radiators exceptional responsiveness to anticipate temperature rises. Cast iron, an excellent refractory material, emits a constant and evenly distributed gentle heat in the room.
Devices with simple active cast iron with models CHAMANE, BELADOO nativ, and AXOO.
Devices with active cast iron with double or even triple heating elements and a priority heating front.
At intuis, the front face is a priority, maintaining a gentle sensation of immediately perceptible warmth from the first cold days to the return of warmer weather to ensure a necessary constant warm spot. When temperatures drop, the active cast iron takes over and also emits gentle and gradual heat.
The latest addition to this family, CALIDOO nativ, offers a triple heating element for a new balance between responsiveness and inertia. Better adapted to new climate conditions, Calidoo nativ is the very first radiator of its generation to offer automatic peak-hour reduction to relieve the network for responsible electricity use.
Finally, the "high-end" intuis signature design range with CAMPAVER nativ, KERAMOS nativ, and NATURAY nativ, enhances the refractory and decorative qualities of noble materials such as glass, ceramic, and raw lava.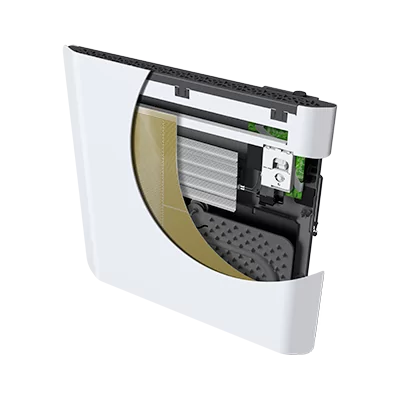 Dry radiators without inertia.
More responsive than fluid technology. Dry technology radiators offer a wide variety of solutions.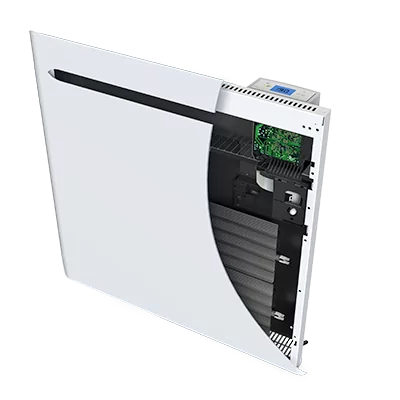 The range of dry radiators without inertia with a single heating element
The heating element, integrated into the appliance's shell, heats the front, producing a very pleasant and responsive gentle heat. At intuis:
OLSO 2 is a simple and economical solution to replace old radiant heaters.
SENSUAL a well-equipped connected range with presence detection.
The range of dry radiators without inertia with a double heating element.
Here, the rear heating element is complemented by a heating film on the front.
At intuis, the embedded intelligence independently manages these two elements, prioritizing the front face. In the shoulder seasons, when it's mild but chilly, only the front heats up, producing a permanent gentle radiation even at low settings. When it gets colder, the rear heating element complements the heat, and the front remains warm.
In this family, you can find ETIC compact and vertical, an ideal solution for heating large living rooms and bedrooms in well-insulated apartments or houses.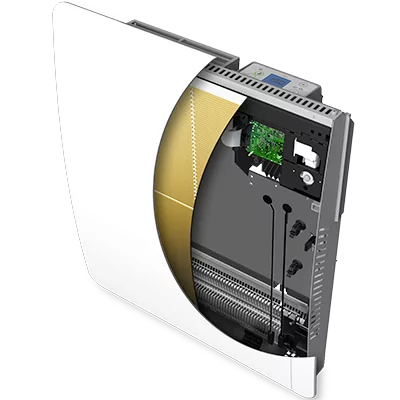 Which thermostat for an electric radiator?

The thermostat is an essential component of regulation. It allows for adjusting the heat based on the desired room temperature. It starts heating when the temperature drops and stops when it is reached.
At intuis, all devices integrate highly accurate electronic thermostats, sensitive to the tenth of a degree. They maintain the desired temperature with minimal deviation throughout the heating season, which is essential for both comfort and energy savings.
In addition, intuis' built-in controls incorporate a high level of intelligence. Equipped with sensors, they act as a real on-board computer to automate the heating plan and track sources of waste while ensuring the right level of comfort at the right time, such as open window detection, absence detection, auto-adaptive scheduling.
The latest nativ generations (available on Calidoo, Beladoo, Campaver, Keramos, Naturay) allow for synchronizing different devices in the same room to pool energy savings and facilitate adjustments.
Nec plus ultra, smart radiators bring a new dimension to the control of electric radiators by allowing centralized control of the entire system through a smartphone for remote interaction, room-by-room temperature adjustments, consumption monitoring, and simplifying and automating programming. The Intuis Connect app, co-developed with Netatmo, is highly praised by its users for its reliability and user-friendliness.
The Radiant Panel
Invented in the 1980s (by Intuis, formerly Muller), the radiant panel, also known as a radiant heater, heats through radiation. Unlike a convector, the radiant panel doesn't rely solely on air as the heat transmission medium; instead, it emits warm radiation forward, immediately felt by occupants. The heat is radiated into the room through a honeycomb grille. These are simple and cost-effective devices that respond quickly.

Please note that Intuis manufactures its own heating elements and offers two ranges of radiant panels: QUARTEA 2 and QUARTEA Intelligent, as the name suggests, an intelligent and connected version with presence detection. These solutions are often preferred by landlords because they are functional, fairly comfortable, and cost-effective to purchase.
The Convector
The convector is the origin of electric heating; it is equipped with an integrated resistance typically enclosed in a metallic casing, heating the surrounding air that circulates within the room using the principle of convection.

Appreciated for its simplicity, its bad reputation is mainly due to the fact that it was often misused in the past. In fact, older-generation devices with imprecise mechanical regulation were installed in poorly insulated spaces.

Today, our new-generation convectors maintain their value for well-insulated homes, temporary residences, or utility rooms.

The EUROSPOT and NOVIUM intuis convectors are of excellent quality. With their highly efficient electronic controls, intuis is the only manufacturer to offer connected convectors in the NOVIUM range. Intuis produces its own high-performance, silent aluminum monoblock resistances.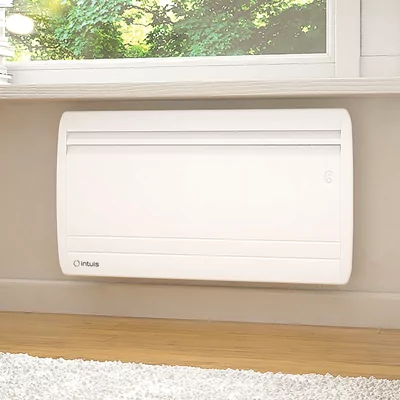 To be read also